Hooray!  It's May!  And to celebrate, I'm going to share my Project Life pages from… February?  I know.  I'm "behind." I think so many of you have been in my shoes.  I wanted to be honest & show you where I'm really at, versus pretending I am perfectly on top of things.
The culprit:  First trimester fatigue is a bitch.  I'm sorry, but that's the only way to say it.  It makes me feel like EVERYTHING is a monumental, exhausting task.  Simple things I do on a regular basis (like project life) suddenly feel completely unmanageable.  I know… it's ridiculous.  We're talking about spending 1 hour max to upload photos from my phone and plop them into the digital templates [available here].  But even taking the photo, before ANY OF THAT, seemed like too much of a task for me.  It sounds overly dramatic, I know.  I can hear myself.  But, hey, that's real life.  For some reason, that's how pregnancy affects me in those first few weeks.  The thought of sitting at my computer screen was nauseating.  Truly.  And so… I decided to let Project Life slide for a few weeks [ok, 12 weeks].  Besides, there's no point in doing project life if you aren't enjoying it.
How I plan to catch up
Sometimes the task of 'catching up' can seem daunting.  Here is how I personally play catch up & the tips I find most helpful:
1)  Upload & organize all photos first.  I began by uploading all my iPhone photos from February through mid April.  I quickly flipped through and deleted out ones not worth keeping.  Then I filed everything in folders.  Finally, I went through and flagged all my favorites that I wanted to include in the album [I use Adobe Bridge].
2)  Set manageable goals.  As April was drawing to a close, I decided a reasonable goal would be to wrap up February before May 1, giving myself just over a week to finish four weeks of missing pages.  Instead of sitting down and knocking out all four at once, I did a page every-other-day.  This works better for me than a marathon session [I get really burned out from those and then just fall 'behind' all over again].
3)  Recycle old pages.  This saves me SO MUCH TIME.  For the first eight weeks of the year, I begin with blank templates and spend more time selecting title/filler/journaling card designs [maybe 45 minutes or so on each week].  But, after those initial weeks are complete, I just rotate through old pages & update ONLY the date/photos/journaling [roughly 10-20 minutes per week].  The pages end up looking quite different, but coordinate perfectly in the album.
4)  Use the Memento App to fill in holes.  For the most part, my photos spark the memory or story that I use for journaling.  But if I'm light on photos or too much time has passed, the Memento App helps refresh my memory.  It pulls your social media feeds into one list so you can quickly see, by date, what happened.  It's really helpful for me, since I'm a big over-sharer on social media.
5)  Remember there are no rules.  There's no grade on this album.  You don't HAVE to document every single week.  You don't HAVE to take a certain number of photos per week.  For me, this means not stressing when I have barely any photos.  I throw in some additional 'filler' cards and call it good.  Anything you get into the book is better than nothing.
So, after many weeks of anticipation [hah, I kid]… here are my February pages!
February 3 – 9.  John had a work meeting in Boston so Colin & I decided to tag along.  One of my best friends from college lives there and it seemed like a great opportunity to fly across the country and catch up!  Except, while we were in the cab on the way to the airport, John's work trip was cancelled because of a snowstorm in Boston.  We decided to go anyway & I'm so glad we did!
February 10 – 16.  The nausea & fatigue started to set in this week so most of the photos are taken on the couch.  Not very interesting, I'm afraid.  Thankfully my boys are cute.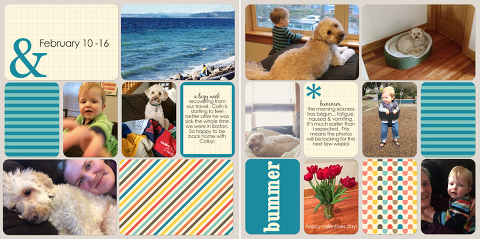 February 17 – 23.  Even fewer photos this week.  I even included the extremely unattractive photo John took of me passed out [at 8pm] because it tells the story… honestly… of this time in our lives.  You're welcome for that.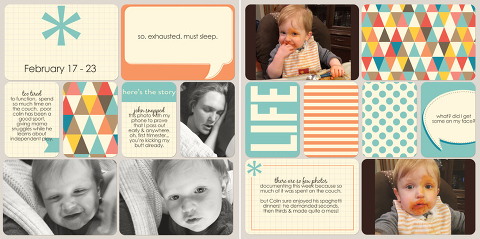 February 24 – March 2.  John's mom snapped most of the photos this week, which is why you actually see me in the pages.  The photo of Colin walking between me & John is my favorite!