This year I've been devoting one week a month to a themed blog series with daily blog posts.  I've talked all about project life, shared some 'wish someone told me sooner' parenting advice, written about ways to preserve your memories/photos, revealed our favorite things in West Seattle, taught a few easy photo editing tips, celebrated my third birthday, shared ideas for documenting childhood, revealed my favorite apps, and this week is all about fun ways to USE YOUR PHOTOS!
---
Me again, the Project Life addict.  You had to know I couldn't write a blog series about USING YOUR PHOTOS and NOT write (another) post all about my love for Project Life.  I can't help it.  I'm not even sorry.
But, hey, this post is a little more exciting than ALL my prior Project Life posts because for the first time I've partnered with Becky Higgins herself to do a FUN GIVEAWAY!  So, read on, friends.

what is project life?
Project Life is a simple system for documenting your family's story.  (Learn more or purchase products at Becky's site).  Slip your photos into the page pockets, write a note on a pre-designed journaling card, and make a photo album/book quickly & easily.  It's often referred to as 'pocket scrapbooking' and while yes, it's an enormous part of the scrapbooking industry, I would argue that it extends well beyond the scrapbooking realm.  I don't consider myself a scrapbooker, but I've been doing Project Life for six years.
For me, I could see the photos accumulating on my phone and as the Camera Roll number increased, so did my guilt that my photos weren't serving any clear purpose.  I couldn't conceivably print and frame every single one, after all, and if I put them in photo albums, they just collected dust.  When I started Project Life, I saw my photos come together with written memories to create STORIES.  That my entire family loves paging through.
is this a lot of work?
Absolutely not because of the Project Life App!  Creating a page is as easy as tapping to place the photo in each pocket and tapping again to add text.
I spend roughly 2 hours each month on this project.  As you'll see below, I make one spread- a left & right page- for each week of the year, but, really, there are no "rules"- you can setup your album absolutely any way you choose (maybe start with one spread a month and see if you like it?).  At the end of the year, I print all 52 weeks in a hard bound book (I've used this process to print in the past, but this year I'm going to try using the book printing that'll be BUILT INTO THE APP with an upcoming release) and add them to our shelf.  I love seeing our 'family yearbook' collection grow.
what do you write about?
Every week is different.  Some weeks contain 7-12 totally unrelated photos and snippets of everyday life.  Other weeks all the photos & journaling will be related to one specific memory like a trip or a birthday.  For instance, our trip to Olympic National Park earlier this year: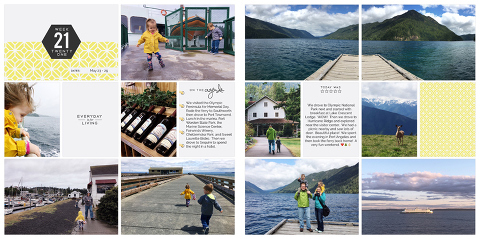 A couple times a year I like to do a 'day in the life' spread where all the photos are from a single day and capture small, everyday moments.  Often my journaling cards include funny things my kids say that I want to remember forever (I'm a big fan of the quotation journaling card design you see below).
You can write as much or as little as you want… it's so easy to customize.  The pre-designed cards contain a mix of 'filler' and 'journaling' options.  I average two journaling cards per week because I take a lot of photos now, but before I had kids, my spreads had 5-7 photos per week and a journaling card for almost every photo.
Let me say again… there are no rules.  Write as much or as little as you wish.  Include as many photos as you want.  There's no 'right' way to do this so just DO THIS.  Flipping through the finished book is so fun and the only way you'll get there is to start.  Like right now.
the giveaway!!
Speaking of getting started… Becky Higgins and her team want to give one lucky reader a whole bunch of fun Project Life goodies to get you going!  The winner will select their favorite CORE KIT + ALBUM + a pack of page protectors.  That's everything you need to complete a book!
Entry is easy (see below)- follow @beckyhigginsllc & @miss.freddy on Instagram for your chance to win!
---
More fun ways to USE YOUR PHOTOS are coming all week long!  If you'd like to receive a summary in your email inbox at the end of the week, enter your email address here!