This year I've been devoting one week a month to a themed blog series, with daily blog posts.  I've talked all about project life, shared some 'wish someone told me sooner' parenting advice, written about ways to preserve your memories/photos, revealed our favorite things in West Seattle, and this week is ALL ABOUT PHOTO EDITING!
---
I've already covered my tips for editing on your phone, three super simple photoshop tricks to improve your blog photos and today I'm moving into a more intermediate concept: my process  for editing skin in Photoshop while maintaining a natural look.
Before we jump into that, I need to get something off my chest:  overly airbrushed/fake looking skin in photos is a pet peeve.  There are currently a couple apps on the market that auto-smooth & tone your phone photos and if you're new to editing, it's tempting to over-do it.  Friends, I love you, but when I see pics in my Instagram feed where the first thing I notice is the obviously altered skin, well… it's not fooling anyone.  There, I said it.
So, today I want to show you how I edit skin in Photoshop and focus, specifically, on making it look natural and not overly processed.
editing skin in photoshop
[don't miss the video tutorial at the end of this post!]
Step 1:  Remove blemishes.  I personally use the clone stamp for this step, but there are other ways.  I option-click next to the blemish and then stamp over the top.  Click, click done.  This is how I removed the two very minor dots on the newborn cheek above.
Step 2:  Run the Portraiture plug-in.  I know, I just cursed apps that 'automatically' smooth skin and now I'm sharing that I run Portraiture on EVERY photo I take.  But, Portraiture is SO MUCH smarter than other apps.  It doesn't just make the skin blurry- it keeps some definition.  [Note: the plug-in does have a significant expense, but after editing skin by hand for years, I found it pays for itself after a few sessions.  Especially with newborns!]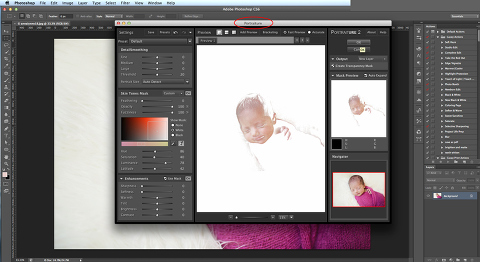 Step 3:  Brighten/soften the area under eye area using the paintbrush.  I option-click an area next to the under eye wrinkle and then paint this color (at 20% opacity or less) over the wrinkle.  DO NOT remove the wrinkle entirely or the eyes will look puffy and realllllly fake.  (see below for an example)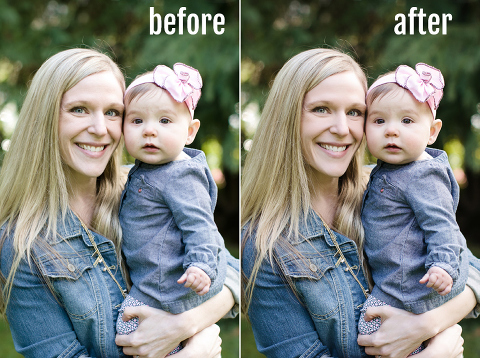 editing skin in photoshop: video tutorial
See the edits in action!
More photo editing tips & photoshop tutorials are coming all week long!  If you'd like to receive a summary in your email inbox at the end of the week,
enter your email address here!