This year I've been devoting one week a month to a themed blog series with daily blog posts.  I've talked all about project life, shared some 'wish someone told me sooner' parenting advice, written about ways to preserve your memories/photos, revealed our favorite things in West Seattle, taught a few easy photo editing tips, celebrated my third birthday, shared ideas for documenting childhood, revealed my favorite apps, given ideas for fun ways to use your photos, dished about my family's favorite recipes, and this month I'm sharing fun DIY photo gift ideas!
---
Wow, it's already Friday!  We've already come to the end of this DIY photo gift ideas blog series!  To recap, I shared how to make your own photo magnets, photo calendar, photo ornament, and personalized coloring book.  Today's project is about as crafty as I get, but it's still very simple.
make your own photo flower pot
Flowers are a go-to gift, for sure, but if you could personalize the flower arrangement by adding your priceless photos, then you have a gift that lives on long after the flowers have gone.
What you'll need:
 Photos (these are 4×6 prints)
 A flower pot (mine is a small/medium sized one from Jo-Ann's)
Acrylic Paint
Mod Podge (I used matte)
Glue
Start by painting your flower pot however you'd like.  I chose green because I thought it matched the photos well, but also would pair beautifully with a poinsettia for a holiday gift.  You could also have your kids help you with the painting and make a more unique pot.
After the paint has dried, glue your photos onto the flower pot.  [Sidenote: I used Tacky Glue to adhere my photos, but I had to hold them in place for quite some time before it held… I bet hot glue would be quicker.]
Then apply a coat of Mod Podge to set everything and add a protectant layer.  There is an outdoor Mod Podge that would work well for larger flower pots that'll be displayed outside.
Add your flowers and your gift is ready to go!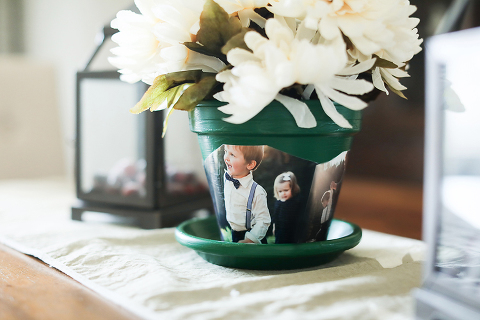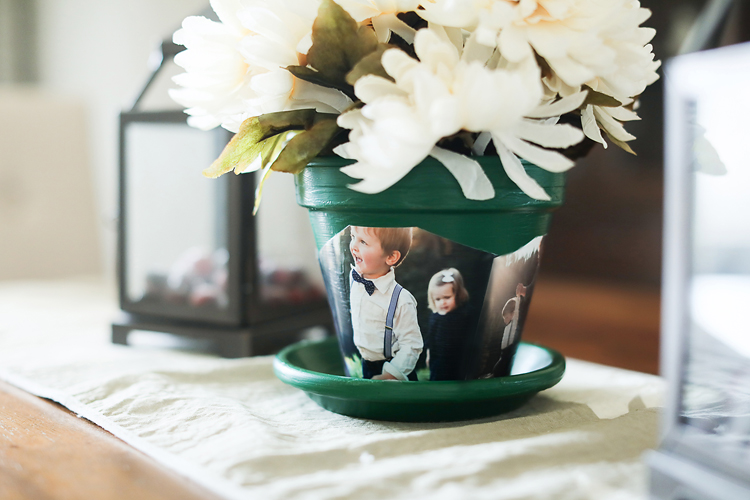 This could also be really fun idea for centerpieces at a birthday or anniversary party!
---
Well, that wraps up another blog series week!  I hope you enjoyed these simple DIY photo gift ideas.  There's ONE FINAL blog series coming next month (I set a goal to do a blog series every month this year and I'm SO CLOSE!)- considering signing up for my newsletter so that you don't miss it!