I'm sure you have a childhood memory of your mom forcing you into an outfit you did NOT want to wear.  It may have been a little too matchy-matchy with your sibling.  Or, it was a miniature version of your mom's outfit (oh, the horror!).  Now, as a mom, I can see the entertainment value in dressing everyone in the same outfits, but as a photographer, I appreciate the way a little variety makes things more visually interesting.  So, if you're not sure what to wear to my upcoming mommy & me event, check out these cute looks I put together from OldNavy.com.  They're simple, well coordinated, reasonably priced & will work all summer long!
what to wear for mommy and me photos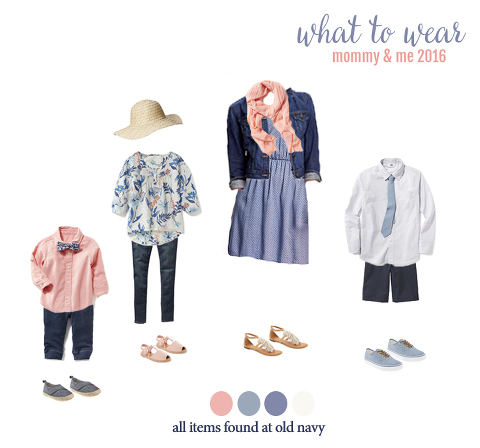 baby:  shirt  I  pants  I  shoes
girl:  hat  I  shirt  I  jeans  I  shoes
mom:  jacket  I  dress  I  scarf  I  shoes
boy:  shirt  I  shorts  I  shoes
Looking for more outfit inspiration?  Check out my spring what to wear looks (mostly still available at oldnavy.com)!
Disclaimer:  This post contains affiliate links.  If you purchase a product through an affiliate link, you will pay the same price, but I receive a small commission.  I only share products I love from companies I trust.