You guys!  I did it!  This is the final blog series of the year.  For any new friends, this year I've been devoting one week a month to a themed blog series with daily blog posts.  I've talked all about project life, shared some 'wish someone told me sooner' parenting advice, written about ways to preserve your memories/photos, revealed our favorite things in West Seattle, taught a few easy photo editing tips, celebrated my third birthday, shared ideas for documenting childhood, revealed my favorite apps, given ideas for fun ways to use your photos, dished about my family's favorite recipes, and created some fun DIY photo gift ideas, and now I'm sharing my family's favorite Christmas traditions!
---
Wow, it's already Friday and we're on the final post of the blog series.  To recap, I've shared a free random acts of kindness advent calendar printable, a candy recipe that I use for gifts around the holidays, a Christmas book countdown with a free numbered gift tags download, and had a friend share her family's awesome Christmas light tour tradition.  Today, we're wrapping things up with a really unique tradition that is part of my extended family (and I've never heard of anyone else who does this)- the crib ceremony.
christmas eve tradition: the crib ceremony
Every Christmas Eve my aunt & uncle host the extended family for a big party.  We start with drinks, dinner (traditionally it's been Chinese food since they're open Christmas Eve), and dessert before we all sit in the living room around the fire and the nativity scene.  My aunt passes out various readings that she's collected- they're prayers or notes/poems from holiday cards or inspirational stories she's found over time- and we take turns reading our selections interspersed with Christmas carols.  After all the readings have been read, we walk around the room, giving hugs and wishing everyone a Merry Christmas.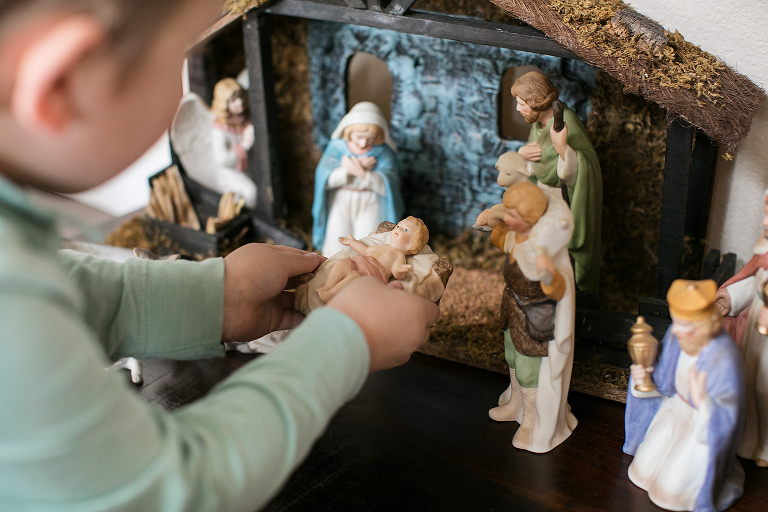 It's called a 'crib ceremony' because it's around the nativity scene.  My aunt had done this as a kid and carried it on with her family.  But my immediate family didn't join in until later in my life (when I was in high school I believe) and I'll admit the first time I participated, I was thinking 'whhhhhaaat is going on? we have to sing christmas carols together?  how embarrassing!'  But now this Christmas Eve tradition has become my single favorite part of the holiday season!
---
Well, that's a wrap on the final blog series of the year, friends!  It was a fun challenge that pushed me to develop lots of new content and I'm really proud of myself for sticking with it all year long.
I'll be back in the new year with plenty of new blog posts (plus I'll be launching new online photography courses!) so sign up for my newsletter to get an email when all of that FUN goes live!