Colin,
You are four years old, baby boy!  No longer a 'baby', that's for sure, but sometimes you'll still snuggle onto my lap and call yourself my baby boy.  *melt my heart*
What a year it's been, kiddo!  We picked out a spot for our new house, talked about the move (lots and lots of Berenstain Bears Moving Day), boxed up all your possessions, and then left behind everything you knew to start a new life in Colorado.  In those months of preparation, I know you didn't comprehend what was about to happen and got overwhelmed.  But, the actual move you handled like a champ and have truly embraced all the newness here: a new preschool, a new gym, a new grocery store, a new doctor, a new neighborhood and hopefully soon- lots of new friends.  You've been excited to explore all of it.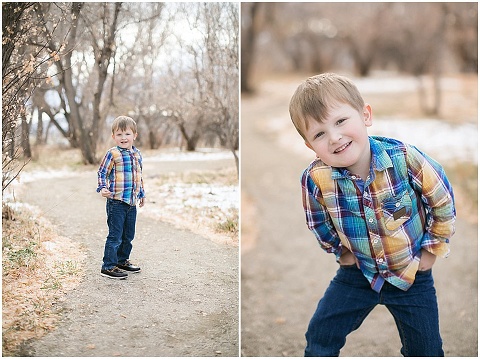 Through it all, one thing has remained true- you're a constant stream of chatter.  We joke that you inherited this from Gaga (my dad).  All your phrases are now clear and make sense and it's fun to watch others experience your cute sayings and conversation.  For better or worse, like most kids your age, you're very honest.  Some of my favorite recent one-liners:  "Mom, stop singing FOREVER…. it makes me and Jill very sad."  Or "Mom, don't tell anything" if you know I'm going to say something you don't want to hear.
One thing you LOVE to talk about: numbers.  Numbers, numbers, numbers.  YOU ARE OBSESSED.  Clocks, addresses, speed limits, timers, even the track listing on your favorite Music Together CD.  You have them all memorized and sometimes it blows my mind with what you have stored in there.  Like when Dad put up the flag pole on our new house and you remarked "it's just like at 5952!"  which it turns out is a house down the street who also flies a flag.
You are such a sweet, sensitive soul.  Though you're reserved around kids your age, you're bursting with love for your family.  When I picked you up from the gym daycare the other day, you were chatting with the adult who told me "he was just telling me all about how you're his best friend."  (again, melt my heart)  When Jill is sad and I ask you to share something with her to try to cheer her up, you happily oblige, part with your prized possession, and say 'here, feel better, Jill!'  I am so proud of your kind heart that it brings tears to my eyes.  I can't wait to see how you'll use your goodness to improve this crazy world we live in.
Colin, I'm so lucky that I get to spend my days with you.  I love you so much, my sweet boy!
Love, Momma
---
I've been documenting 'the favorites' at various milestones and here's a quick update for 4!
Favorite Food: peanut butter & jelly
Favorite Book:  Chicka, Chicka 1 2 3, Pete the Cat and his Four Groovy Buttons, or One Big Pair of Underwear
Favorite Song: the soundtrack from our Music Together class
Favorite Word: "tank fish" (his toy fish tank)
Favorite Toy: the pizza he got for his birthday
Favorite Thing to Do:  watch Blaze, paint fish (cut out of paper plates), or build Junior Legos (with Mom's help)
Favorite TV Show:  Blaze and the Monster Machines
---
See more letters to Colin:  the first year I two years I  two and a half  I  three years  I  three and a half