Hi, my name is Casey and I'm a Project Life addict.  It should come as no surprise that I used a Project Life kit to create Jillian's baby book. I feel like I share about Project Life a LOT on my blog, but if you have no idea what I'm talking about, you can read how I use it for our family yearbooks to get an overview of the concept.
I used digital Project Life to create Jill's baby book.  Which means I designed it in Photoshop.  [But, Casey!  You're such an advocate for the amazing Project Life App!  What are you doing back in Photoshop!?]  The reason I opted for Photoshop was because I created Colin's baby book that way, before the app existed, and I was able to re-purpose his pages, just swapping in baby girl cards.  Except, I'm not honestly sure if it ended up being any faster, because that app is just so dang convenient!
Anyway, here it is…  Jill's finished baby book!  It's the Baby Girl kit designed by Emily Ley.  And I LOVE IT!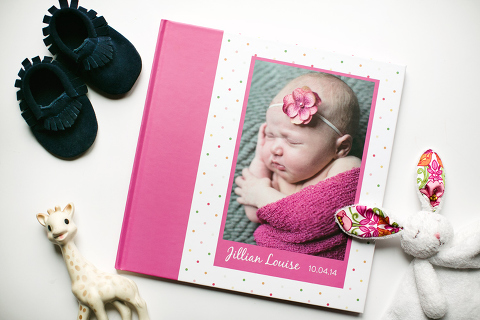 The digital project life core kit comes with basically everything you need to make a baby book.  It has pre-designed prompt cards for you to record all the details, tons of beautifully coordinated 'filler' cards, and an abundance of adorable journaling cards.  Really, you just plop in photos, add your notes, and you're done.  SO STINKING EASY!  (And it makes even the most design-challenged person feel like a rockstar!)  In my opinion, the ONLY thing that's missing is a template for the cover of the book.  But, if you like the one I created for Jill's book, I've created a FREE DOWNLOAD!
free cover template for digital project life baby book
These are psd files for use in photoshop [cute baby photo not included]: front cover  I back cover
I also shared a baby boy version of the cover templates in this post.
The book was printed through Blurb.  [Read exactly how I do that in this post.]  It's a 12×12 hardcover with a wraparound image & ProLine Uncoated paper pages.  I also ordered two small 7×7 copies to give to the grandmas.  They're super cute in the small size, but the 12×12 is my favorite.
a peek into Jill's project life baby book
Flip through the pages and get a closer look:
Questions about Project Life or Jill's baby book?  Leave a comment below or shoot me an email!
Want to see more of my Project Life work?  You're in luck… I've shared many posts over the years!