Once again this month, I made ALL of these pages using the new Project Life App [I shared more about this last month]!  I was lucky enough to be a beta tester and I AM IN LOVE with the convenience of documenting the everyday ON MY PHONE!  Find out more about the Project Life App on Becky's Blog!
August 4 – 10.  John's brother & nephew came to visit us from Minnesota and we had a really fun week.  We visited the Seattle Aquarium, Snoqualmie Falls & Alki Beach Tidepools.  Colin adores his cousin, Ben, and my favorite photo is the two of them together at the tidepools (far left)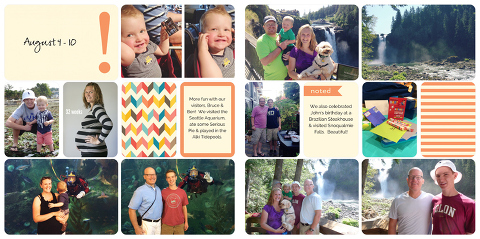 August 11 – 17.  The most exciting thing that happened this week is that Colin learned how to put himself down for a nap.  He's pretty much needed to be rocked to sleep for naps since birth (which was mostly ok… I loved the snuggles) and this is a big step towards being ready to welcome a little sister.  Also, life without air conditioning continued to be very… sweaty.  And I launched my new digital shop!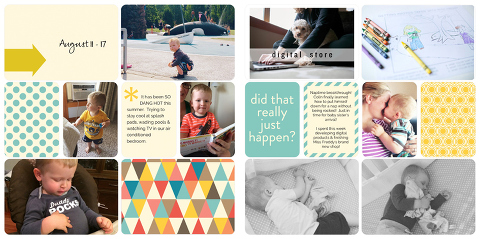 August 18 – 24.  This was a super quiet week, so I took this time to highlight my maternity photos!
August 25 – 31.  Little, quiet moments as life slows down in preparation for baby sister's arrival.  Colin & I visited KidsQuest for the first time since he started walking (and it's now WAY MORE FUN!), we spent quiet afternoons relaxing at home, and successfully baked a pie!
Do some of the page designs look familiar this month?  As I've shared before, I love to recycle my pages, in the name of simplicity & time saving.  With different pictures & journaling- the pages actually look quite different!