Dang, this summer is seriously flying… we're in the last week of July already?  What?  Time to flash back a bit and look at the June Project Life pages.
June 2 – 8.  It was my birthday week and I requested that we celebrate with a family hike, dinner at Local 360 & a delicious cake from Bakery Nouveau.  I also dusted off the crochet needles [after about 2 years] to throw together a newborn cocoon photo prop [which I used in a photo shoot I'll be sharing on the blog next week].  But, one of the most fun photos for me to see is the one of the boys admiring the garden… I can't believe how tiny everything once was and I'm so glad I have this photo to remind me of the progress.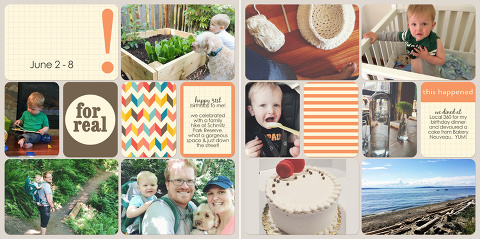 June 9 – 15.  24 weeks pregnant.  Bought an Ergo for Baby #2 and tested it out with Colin- he thought it was hilarious.  Our first harvest from the garden (fresh romaine!) and the appearance of a tiny little tomato!  Colin also had his 'end of the year' performance at The Little Gym.
June 16 – 22.  The Elon crew came into town for a visit.  I've already talked about our trip, but these pages incorporate photos taken by the entire group [which means I get to be in some!]  We used a Photo Stream on our iPhones to share photos throughout the trip- super slick!
June 23 – 29.  Technically our visitors left on Monday, but I decided to devote a whole second week to our trip since there were so many good photos.  Which is cool because you make your own rules for Project Life.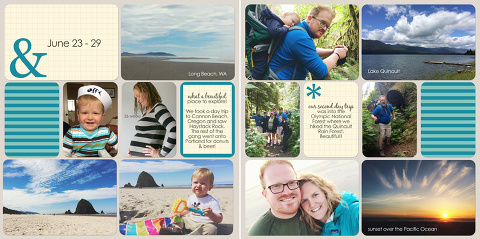 Do some of the page designs look familiar this month?  As I've shared before, I love to recycle my pages, in the name of simplicity & time saving.  With different pictures & journaling- the pages actually look quite different!