Slowly, but surely, I am getting closer to 'current' in this year's family album.  [see my last post for my gameplan for playing catch up!]  My goal is to wrap up my April & May pages by the end of this month and share them at the beginning of June.
But before that… here is the month of MARCH!
March 3 – 9.  We spent the week in Fountain Hills, Arizona with my family.  I was SUPER sick during the travel, but was able to relax all week while my mom took care of everything.  Moms are so good at that, am I right?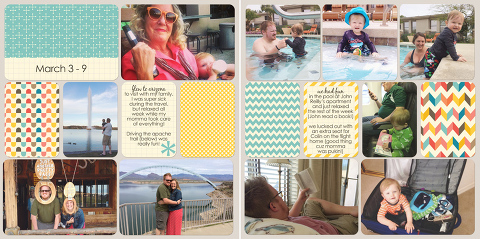 March 10 – 16.  I discovered 'juicing' after watching the documentary Fat, Sick & Nearly Dead.  A cafe near our house offers an organic juice bar so Colin & I tested a few drinks.  The juice really helped me deal with my morning sickness and I was thankful to finally keep something down and give some nutrients to this little baby!  Shortly after, we ordered this juicer and have been experimenting in our own kitchen.  [Do you have a favorite juicing recipe?!  Please share!]  Also, Colin toured the Bellevue Fire Department and LOVED seeing the fire truck light up!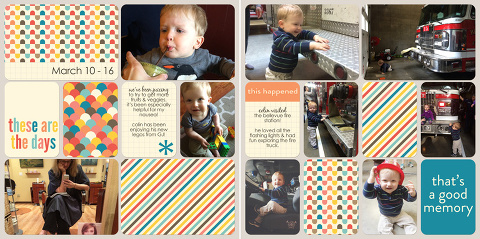 March 17 – 23.  Still under the weather, but did better this week in getting out with Colin.  Visited Kidsquest with his friends and practiced 'driving' quite a few toy cars!  And my oldest son [Colby Jack, our pup] celebrated his 5th birthday!  He's our little St Patty's baby.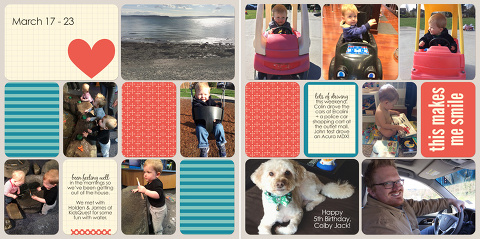 March 24 – 30.  Another week of morning sickness, but still tried my best to find fun activities for Colin [have I mentioned he's not a big fan of watching TV yet?]  We made some new artwork for the Grandmas & played with an amazing Quiet Book that we received from my friend Hannah.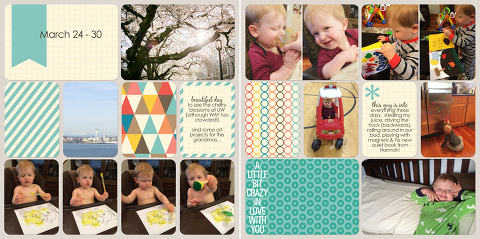 Do some of the pages look familiar this month?  As I've shared before, I love to recycle my pages, in the name of simplicity & time saving!  Three of the pages above also appeared in January, but with different pictures & journaling- they actually look quite different!