It's getting to be the time of year when I am super anxious to get my final, printed book in hand… only a couple more weeks before I order my 2014 family yearbook [see how I do that].
I have to admit I'm loving the Project Life App more than ever because I can easily complete my pages WHILE NURSING.  Even despite a little setback where I had to factory reset my phone and lost many of my photos (thanks to an upgrade to the new operating system that went awry), I am proud to say I'm current on my pages (and very thankful for Dropbox backup).
Speaking of backing up… here are my October pages:
September 29 – October 5.  A bit of a life-changing week for us, you could say.  Took my 40 week bump photo [which I didn't have to take with Colin & wasn't expecting to take this time], went two days overdue, and then welcomed Jillian!  Not the most flattering photos of me, but that's what birthing a 10+ pound baby without drugs will do.
October 6 – 12.  Our first week at home.  Grandma Josie came to help us out and thank goodness she was here because we ALL got sick (except Jillian).  Colin was mostly oblivious to his baby sister and enjoyed all the extra snuggles (and gifts) from Josie.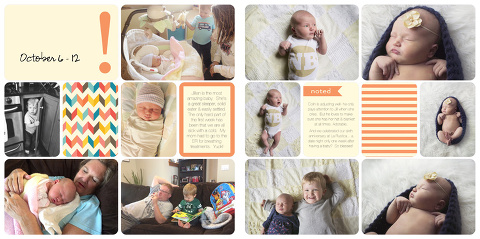 October 13 – 19.  A couple favorites from Jillian's newborn photos, plus a bunch of photos from our session with my friend, Neyssa.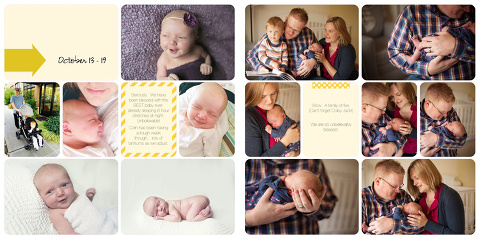 October 20 – 26.  The bathroom remodel began (and was postponed).  Lots of time at home caused Colin to go stir crazy, resulting in tantrums-a-plenty until we started venturing out of the house.  There was also a quick stop at the pediatrician for a weight check because Jill didn't quite make it back to her birth weight at her 2 week appointment.  The nurse literally laughed at us for getting a weight check when Jillian tipped the scales at 10lbs, 13oz.
October 27 – November 2.  Oh, Halloween was so much more fun with little kids to dress up!  Colin's UPS man costume was a hit (thank you, Grandma Josie!) and we even ran into the REAL UPS man as I was taking these photos.  Made my day when he asked to pose with my little guy!  And our little pumpkin, Jillian, had fun watching from the stroller as her brother trick-or-treated in our neighborhood.  The only sad part was that John's big project launched Halloween night so he missed all of the fun.  I took plenty of photos (no surprise there) for him to see when he finally got home at 2am!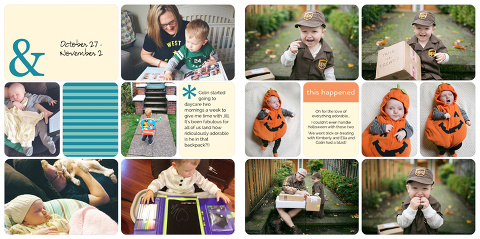 Do some of the page designs look familiar this month?  As I've shared before, I love to recycle my pages, in the name of simplicity & time saving.  With different pictures & journaling- the pages actually look quite different!