I need to start this post with a confession:  October kicked my butt.  It began with travel, was filled with sleepless nights due to colds & teething, and I had SIXTEEN photo sessions to edit and get out the door.
All this to say… Project Life took a backseat.
But it's all ok.  That's why I love this simple system– I was able to pull together everything you see here and knock out an ENTIRE MONTH in TWO HOURS!
 September 29 – October 5.  Colin & I traveled to Minneapolis for my Minnesota Mini Sessions.  We visited with BOTH Grandmas and fit in a few playdates with friends.  Since it was a busy week I didn't take many personal photos.  I used snapshots taken on my mother-in-law's phone and added in a couple favorite photos from my mini sessions.  I don't typically include my client work in Project Life, but since this trip was all about the mini sessions &  I had a shortage of personal photos, I decided to include a few.  Oh, and since the horribly inaccurate weather forecasting played a big role in the weekend, I included a snapshot of that as well.  Anything goes.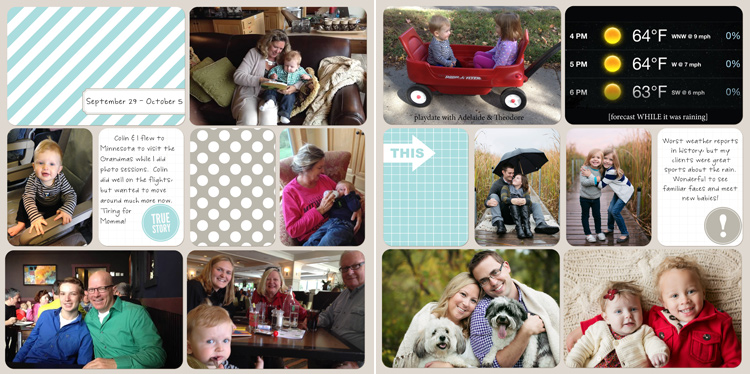 October 6-12.  Back in Seattle, we celebrated our FIVE YEAR ANNIVERSARY!  My cousin was able to babysit [hooray!] and John took me to a fancy steakhouse for dinner.  We also got back into our weekend hiking routine and explored Twin Falls.  All photos taken with my iPhone this week.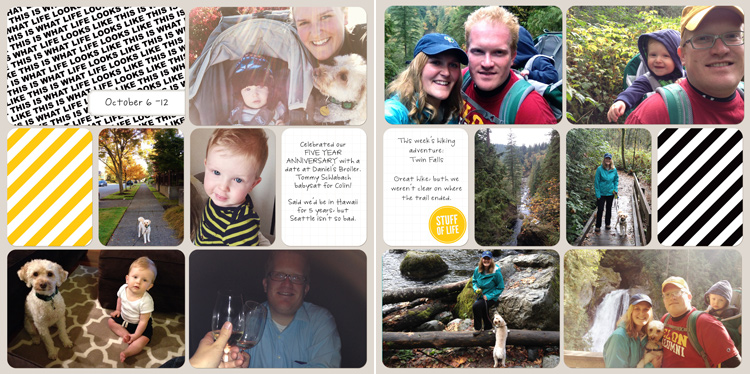 October 13-19.  The highlight of the week was our family trip to the apple orchard.  I had so many favorite photos that I decided to dedicate the entire week to this event.  I snuck in two iPhone photos on the right side [our Franklin Falls hike and my official LLC paperwork from the state of WA!]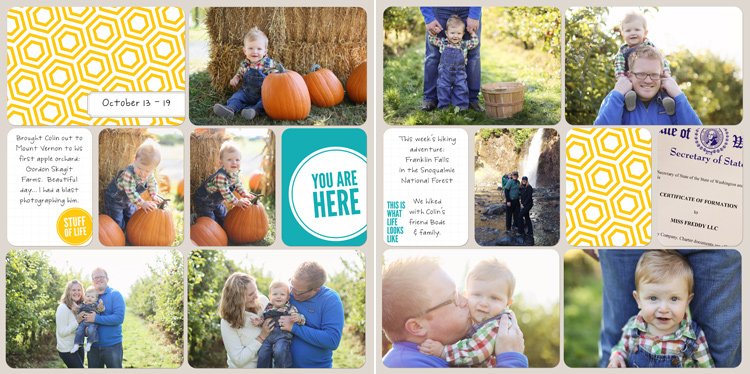 October 20-26. Again, most of this spread features pictures taken with my big camera.  On the left, a few fall memories [we are loving fall in Seattle!] and on the right are Colin's 11 month photos.
October 27 – November 2.  Colin's first Halloween!  Left side is all iPhone photos, right side is all big camera photos [from our trip the aquarium].  Even though it's a bit of a hodgepodge, I'm loving how the bright colors really tie everything together.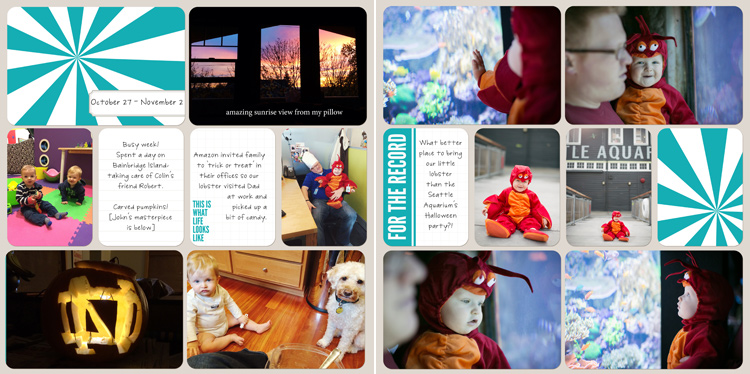 Whew!  What a month!  Like I said… it kicked my butt.  Excited for a November that's slower-paced and includes a bit more rest [or so I hope!]
Want to read more about my process for creating digital pages?  Check out this post.
Want to start your own Project Life?  Click here.