Have you been looking for a way to put all your photos to good use?  Are there a bazillion photos collecting dust on your iPhone?  Project Life is a simple way to document your daily life and let your photos tell amazing stories.  Plus, the new Project Life App makes it even EASIER to create a family yearbook- literally create a page in a few taps of your fingertip!  Find out more about the Project Life App on Becky's Blog!  Here are the pages I created from September.
September 1 – 7.  36 weeks pregnant & slowing down.  We did manage a nice family hike around Discovery Park though.  Oh, and Colin emptied the contents of our cabinets one-hundred-plus times [his current favorite activity].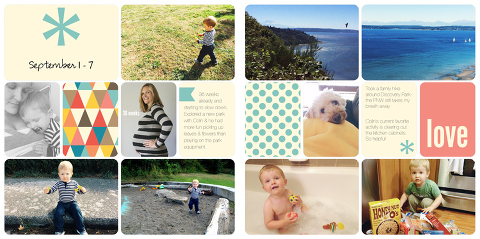 September 8 – 14.  I selected my favorites from the day in the life photos.  Even though the photos are just from one day (and not a whole week), it captures our story right now.  Focusing on one day every now and then allows me to really document the details.  Remember, there are no rules in Project Life so you can fill your pages any way you like!
September 15 – 21.  I really thought this was the week Baby Girl would arrive!  My mom had baby #2 & #3 at 38 weeks and I thought I'd follow suit (even though the doctor told me there's no correlation).  Since she didn't make her appearance, I filled the pages with random photos like meeting Daddy for lunch & Colin experiencing the cake walk at our church's fall festival.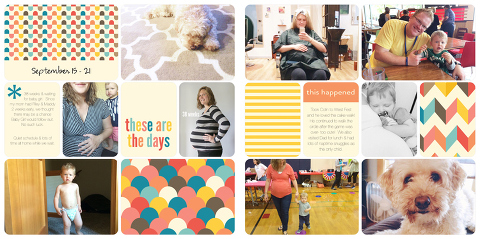 September 22 – 28.  This week was full of snuggles.  Knowing Colin's reign as only child was coming to an end, I was eager to savor these moments.  I'm so thankful that in between the crazy toddler moments, he likes to slow down and snuggle before going to sleep.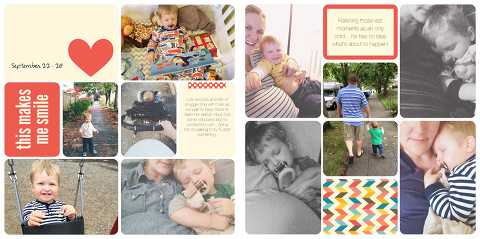 Do some of the page designs look familiar this month?  As I've shared before, I love to recycle my pages, in the name of simplicity & time saving.  With different pictures & journaling- the pages actually look quite different!