I can't believe September is already over… I feel like I was just writing a blog post with my August project life pages!
September 1-7.  It was a relatively quiet week because we stayed home for Labor Day weekend.  We had aspirations to go camping at one of the state parks, but couldn't find a site with availability [guess everyone had the same idea].  We thoroughly enjoyed the quiet instead.  At the end of the week, John's mom came into town for a visit.  She took a few photos of me & Colin so I included them in the pages.  Every single photo was taken with my iPhone.
My favorite photo from this week: John reading a bedtime story to Colin.  We added this into our bedtime routine, which we now refer to as 'book, bath, boob, bed', so that John & Colin would have this time together when John gets home from work.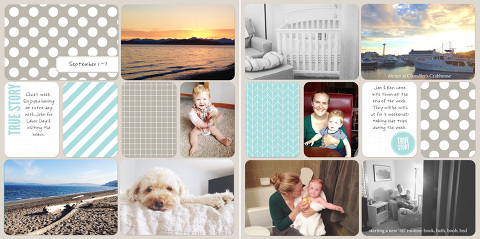 September 8-14.  We traveled to Victoria with John's mom so this was a very photo-heavy week.  I'm not totally happy with the lack of continuity between the left/right sides here, but at least it's documented. Left side are iPhone photos & the right side are non-iphone [Canon 5D Mark iii].
My favorite photo from this week: Colin reaching for the camera.  It reminds me of how well he handled that trip [he looks so happy!] and how he likes to grab for everything these days.
One thing you'll notice is that I do not use a photo-a-day approach with my Project Life.  During this particular week, the photos from the weekend were far more interesting than our day-to-day activities.  So I focused 100% on the trip.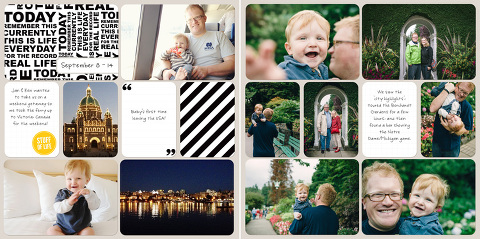 September 15-21.  The highlights of the week were Colin's new haircut & starting swimming lessons!
My favorite photo from this week:  the black & white photo of Colin admiring his haircut in the mirror.  Because… well, he's cute.
September 22-28.  Again focused on two events:  Colin turning 10 months & our weekend trip to Leavenworth [I'll include more about that in an upcoming blog post].  All captured on my Canon 5D Mark iii.
My favorite photo from this week:  Colin sitting in the chair with his hand placed on the arm rest.  Something about his more 'serious' expression really connects with me.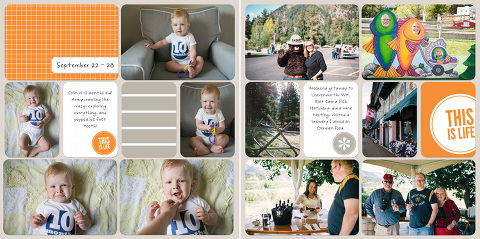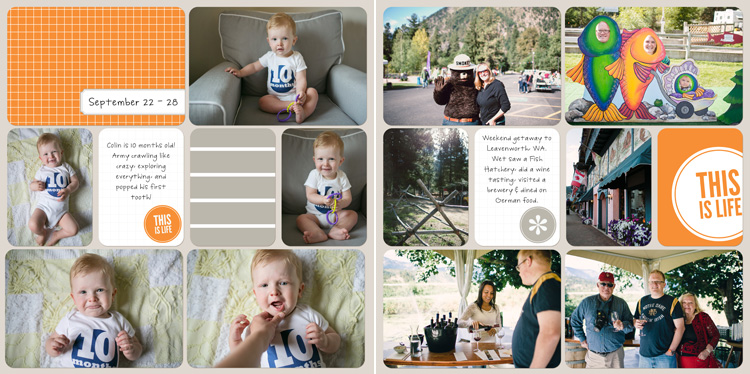 Want to read more about my process for creating digital pages? Check out this post.
Want to start your own Project Life? Click here.