It's been awhile since I shared some sample Project Life pages on the blog so I thought I'd share a little look at how our 2016 family yearbook is coming along.
This is my sixth year using Project Life to document my family's story.  For 2016 I'm using the new Project 52 kit.  I use the same core kit throughout the entire year to simplify the design decisions and keep the process EASY.  I've talked many times about how I use the Project Life App to quickly design my pages on my iPhone [I shared a how-to in this post]… the app is seriously the best.
Every two months or so, I spend a couple hours creating pages in batches rather than on a weekly basis.  I get into a groove and find it's easier for me to do it all in one power session.  Last weekend I flew to Boston for my friend's wedding and since I was child-free (!!!) on the flight, I used the opportunity to catch up on Project Life.  Here's a peek at some of my 2016 pages:
sample project life pages from the project life app

January 11 – 17.  Kind of a boring week, really.  I didn't take a lot of photos so I actually used a couple screenshots from video captures.  The Project 52 design cards are so cute that I still ended up with a fun page despite the photo shortage.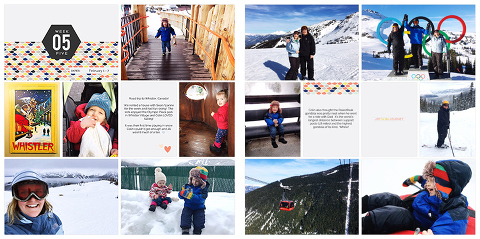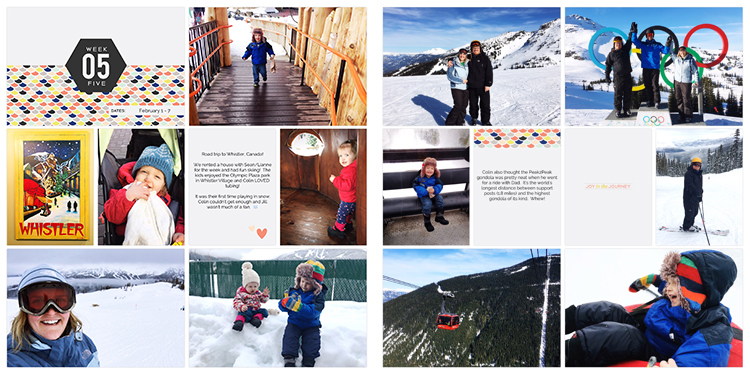 February 1 – 7.  Our trip to Whistler.  I love how the snowy backdrops in all the photos are so 'clean' and tie the pages together.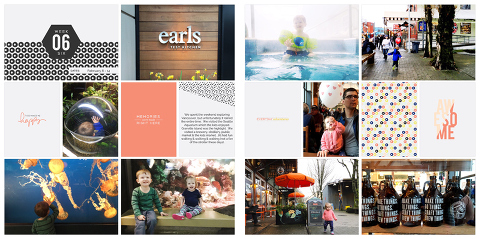 February 8 – 14.  Photos from our time in Vancouver.  I really, really love the designs of this year's Project 52 kit.  They're simple and beautiful and consistently coordinate so well with my photos.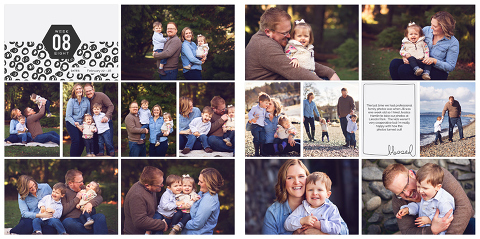 February 22 – 28.  We got professional family photos taken so I decided to dedicate an entire spread to my favorites from the session.


February 29 – March 6.  Hello, sunshine!  The photo highlights from our trip to sunny Florida.


March 21 – 27.  Photos from my 'day in the life' post.  I always love how polished the day in the life spreads end up looking since they're all photos from my DSLR instead of my iPhone (I do these quarterly).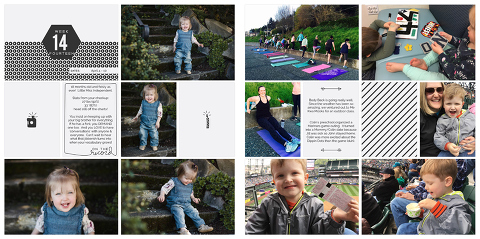 April 4 – 10.  I used the left page to spotlight Jill because she turned 18 months.  I included the stats from her doctor checkup and some fun memories of this age.  The right side of the page are the typical weekly activities/smaller moments.


April 11 – 17.  We were sick so since we were home bound for the ENTIRE week, I decided to capture some small, moments.  I also used the journaling card with the quotation marks (love that one!!) to write down a list of Jill's current words.
want to start using the project life app?  it's never too late!
I shared why I love Project Life, how I do it, tips for using the app, how I print it & a completed album during my 'All About Project Life' blog series earlier this year!