This year I've been devoting one week a month to a themed blog series with daily blog posts.  I've talked all about project life, shared some 'wish someone told me sooner' parenting advice, written about ways to preserve your memories/photos, revealed our favorite things in West Seattle, taught a few easy photo editing tips, celebrated my third birthday, shared ideas for documenting childhood, revealed my favorite apps, and this week is all about fun ways to USE YOUR PHOTOS!
---
Ok, I love memory keeping.  I'm a photographer.  One of my favorite hobbies is creating annual family albums with Project Life.  But, I realize that's just ME.  That's not necessarily YOU.  If you appreciate the value of documenting your family's story… tangibly… but don't get joy out of actually DOING the documenting, today's post has your solution!
Enter: Chatbooks.  They've automated the story-telling process.  Download their app and turn your social media feeds into physical books… automatically.  Like, really, take 2 minutes to set it up and then they just arrive at your doorstep.  AUTOMATICALLY.  Watch your family's story grow… AUTOMATICALLY.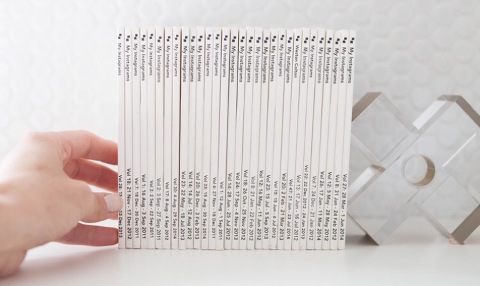 Since I use Project Life as my primary way of documenting my family's story, I don't automate my social media feeds via Chatbooks.  However, as I shared in the past, I use Chatbooks to create volumes of my children's artwork (via private Instagram accounts) and I've fallen in love with the concept.
Are you a pretty private person who doesn't share a lot on social media?  You can still make an automatic photo book series via your Iphone Photo Favorites!  After you setup the series, each photo you flag as a 'favorite' (the little heart icon) in your Camera Roll will automatically be added to your book.  Keep your privacy and still get a cute book collection!
I didn't mention the BEST part yet:  EACH BOOK IS ONLY $8.  Seriously.  $8.
receive a free chatbook!
You can give Chatbooks a try FOR FREE with this link!  I hope you'll love it as much as we do!
---
So that's it!  To recap, this week was all about ways to USE YOUR PHOTOS and we covered the best places to print photos, a fun DIY monthly frames project, great photo gift ideas, and how to make photo books with Project Life & Chatbooks!  Want more ideas?  Follow me on Instagram (I share ideas under this hashtag: #missfreddysaysUSEyourphotos + lots of other photo tips!).
Also, I feature a new series every month so considering signing up for my newsletter so that you don't miss next month's!