Oh, May, weren't you a treat?  No more morning sickness, a quick trip to Denver, Colin began walking & we found out Baby #2 is a GIRL!
April 28 – May 4.  A fluke week of super warm temperatures (80s) prompted us to buy a small kiddie pool for Colin- I hope it provides entertainment all summer long!  We flew to Denver for a very quick trip to visit with my family & see my little sister graduate from college (yikes, that made me feel old).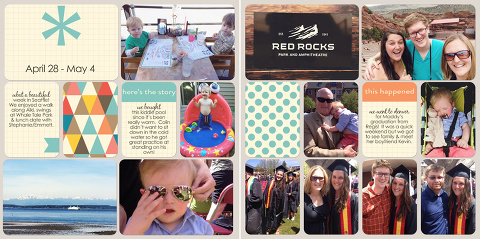 May 5 – 11.  Colin & I unfortunately both got sick with terrible colds, but it didn't stop us from celebrating Mother's Day.  John built me a raised garden bed as my gift.  It is beautiful!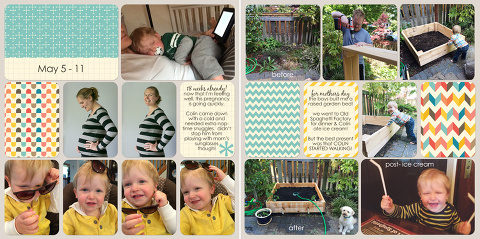 May 12 – 18.  We saw Baby #2 at the 20 week ultrasound and can't believe it's a GIRL!  We shared the news with Colin using a pink cake [ok, fine, he had no idea what was happening].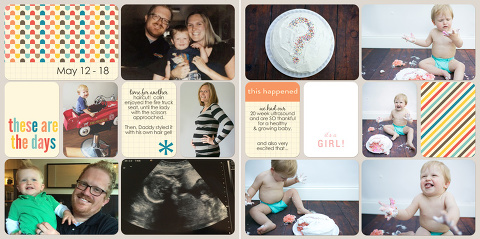 May 19 – 25.  Colin's 18 month checkup went well (some sadness because of the shots though, of course) & we went for our first hike of the season at Cougar Mountain!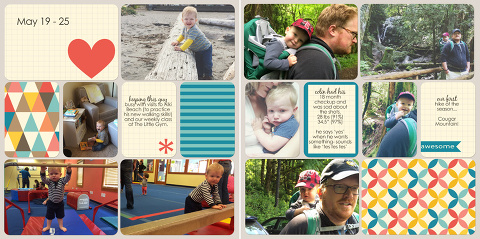 May 26 – June 1.  These photos are from the day in the life post I shared earlier.  Plus 22 week bump shot (I take a photo every two weeks)- getting quite a bit bigger!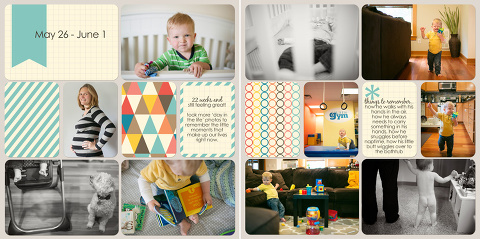 Do some of the pages look familiar this month?  As I've shared before, I love to recycle my pages, in the name of simplicity & time saving.  With different pictures & journaling- the pages actually look quite different!