I did it!  After playing catch up, I am 'current' on this year's project life album!  In this post I'll share my April pages and the next post will include all of May.
March 31 – April 6.  We traded in the Honda CRV and took home our new/pre-owned Acura MDX.  The weather started warming up so I took Colin to the park & the beach.  The highlight was when he decided to STAND ON HIS OWN for about 30 seconds.  It was a big step towards taking the steps we'd waited so long to see!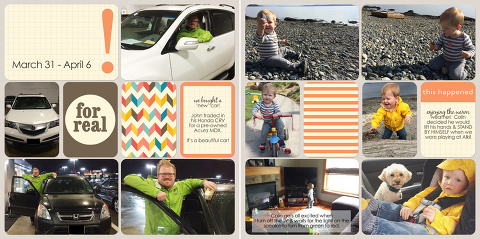 April 7 – 13.  We traveled to Florida to visit John's family.  Colin was excited to meet his Uncle Kirk!  We played in the sand & ocean (he had fun hunting for seashells).
April 14 – 20.  Exhausted from traveling across the country, we took some time to recover.  I finally overcame my morning sickness (woohoo!!).  Colin had his physical therapy evaluation (got a great report!), I heard the Baby #2's heartbeat at my 16 week appointment & then 'went public' with our pregnancy, and the Easter bunny came for the first time!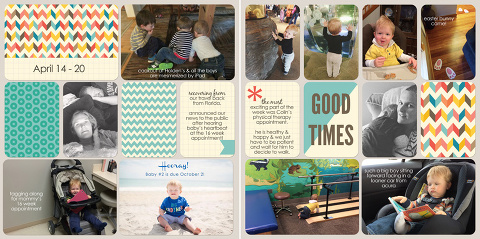 April 21 – 27.  Sharing my first 'bump' snapshots, experimented with a homemade macaroni & cheese pizza recipe (just like Ian's!), and checked out Young at Art's studio.
Do some of the pages look familiar this month?  As I've shared before, I love to recycle my pages, in the name of simplicity & time saving.  With different pictures & journaling- the pages actually look quite different!