This time things are different.  I was frightened about welcoming a second baby.  I remembered how much I struggled when I first became a mother.  How much work it was to take care of a newborn.  The exhaustion.  The physical pain of recovering from delivery.  Oh, and breastfeeding is NOT EASY.  I didn't feel like I found my groove until Colin was nearly a year old and I wasn't sure how I'd handle that again.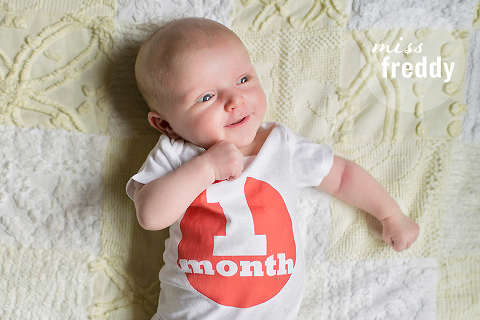 And then we brought home Jillian.  She is SO MUCH EASIER than her brother was at this age.  I'm sure part of it is being more confident in my role as a mother.  But I know it's more than that.  We have been blessed with an easy baby.  She sleeps.  At her two week appointment, the pediatrician actually told me I shouldn't let her go six hour stretches at night without nursing [we love our doctor, but I just can't make myself listen… Jill eats PLENTY during the day].  She naps.  Without needing to be held.  She eats.  And doesn't spit up every last drop.  She's content.  Hooray for a baby that's happy in the swing!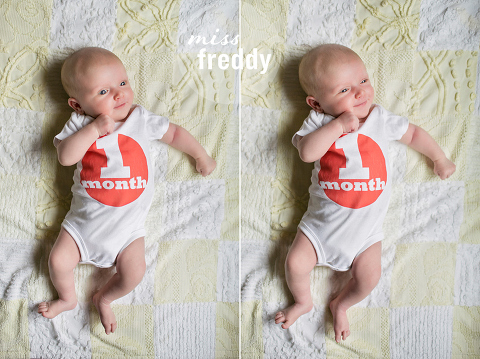 Jillian,
You've fit yourself perfectly into our family.  Thank you for making the transition so easy for me.
When you came out 10lbs, 7oz, I joked that I'd just birthed a three month old.  But the truth is that you have a maturity of a much older baby.  You started 'sleeping through the night' [by definition that's a 5 hour stretch] within the first week.  And you're giving me occasional social smiles already!
Just a couple days after we brought you home, the entire family came down with a cold.  As we coughed & sneezed [and your grandma went to the emergency room!], you stayed completely healthy.  As if you were saying 'don't worry about me guys, I got this.'  But, of course I did worry… that's what mommas do best.
Don't let your big brother's tantrums fool you- he loves you too, but he's a toddler adjusting to his new role.  Already, he is a protective and sweet big brother.  Gently patting you when you cry.  Always making sure you have your blanket and pacifier available.  In one of your first days, I picked you up from the swing and brought you over to the couch for a feeding.  Colin noticed I had left your blanket behind so he eagerly rushed over to us, carrying the blanket.  In his hurry, he tripped over it and fell hard onto the wood floor.  He scrambled to get up, with tears in his eyes, and brought the blanket over to you.  My heart burst.  I couldn't believe how quickly he'd welcomed you into his life [even if he's been giving Mom a hard time with tantrums during the transition].
Baby girl, we are so thankful for you.  And can't wait for those smiles to get bigger and to discover the personality you'll develop in these next few months!
Love, Momma
I used these same onesies to document Colin's first year.  I launched this blog midway through, so you can check out those posts here:  eight months  I  nine months  I  ten months  I  eleven months  I one year