Whew!  It's already May?  I am SO thankful that the Project Life App is helping me document our daily lives… because… honestly… what did we even do in the first four months of this year?  I'm going to blame my two small children for the exhaustion that makes my memory NON EXISTENT.  Seriously.
Here are a few of my favorite pages from this year (using the Project 52 design kit):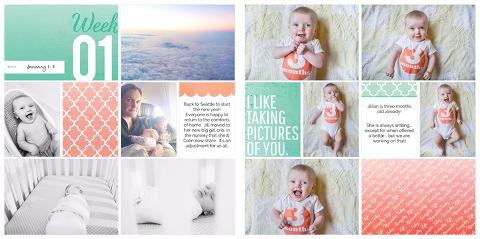 January 1 – 8.  I love the color palette of the Project 52 kit.  And it happened to perfectly blend with these photos.  We traveled back to Seattle after our holiday travels, Jill turned three months, and moved into her big girl crib (which was short lived… hah… 3 months later she moved again… for real).
January 19 – 25.  Our first family ferry trip & Vashon Island adventure was so much fun!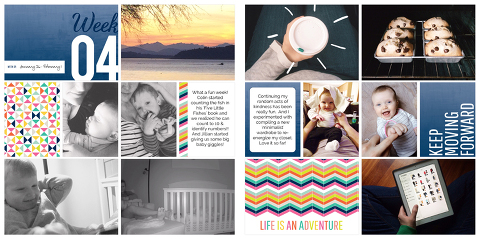 January 26 – February 1.  Jill started giggling, Colin started counting & I started my random acts of kindness challenge.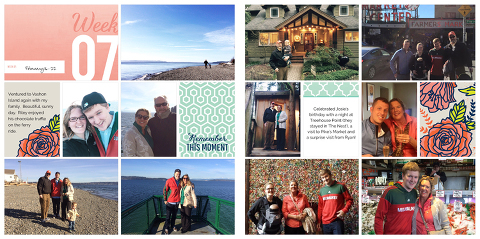 February 16 – 22.  After Jill's baptism, we entertained visitors and celebrated my mom's birthday (we gave her a night in the treehouse as her gift!)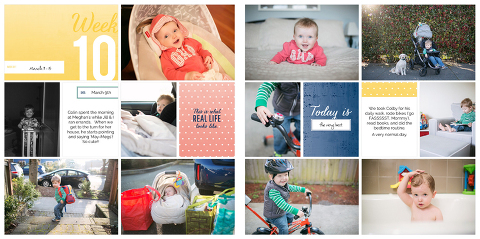 March 9 – 15.  Used my 'day in the life' pictures for this week.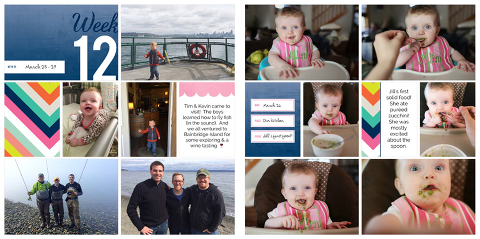 March 23 – 29.  Entertained some more visitors and introduced Jill to solid foods!
March 30 – April 5.  Jill turned 6 months & we visited the tulip festival!
April 13 – 19.  We traveled to Florida to visit friends & family (photo overload)!
Want to start using the Project Life App?  It's never too late!