Jillian,
You are five months old now, baby girl!  And already I can hardly remember our family without you in it.
The most noticeable change this month has been your activity level.  Gone are the days of setting you on the bed & knowing you'll still be there if I blink.  Now, I lay you on the floor, turn my head, and you've rolled two feet away.  It's amazing how that seemingly developed overnight [albeit possibly a semi-sleepless night… hah].  And OH!  you have SO much to say!  You are a bit of an early bird, which is interesting since Mom & Dad aren't early risers, but when you wake up you are ready to PARTY!  I have to bring you into our room and close all the doors to make sure your sweet babble doesn't wake your brother.  We're still getting the hang of sharing a nursery.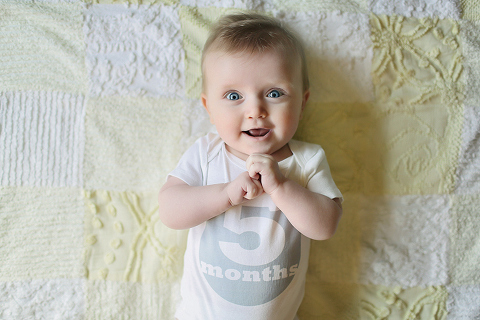 The highlight of the month was definitely your baptism.  It was so exciting to be joined by quite a bit of family & friends as we watched the priest bless you.  Although I'm sad that you weren't able to be baptized in the family gown that dates back to your great-grandmother Louise [your middle name], I know that's not what's important.  What matters is that we all pledged to help you live a beautiful life with Christ.  Also, you rocked your brand new baptismal gown!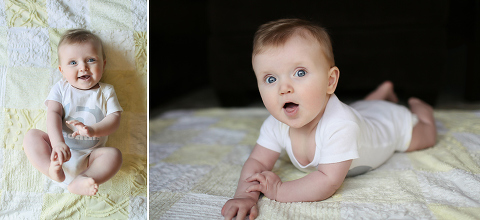 Baby girl, you truly possess something special.  Your eyes always sparkle.  Even in a mostly dark room.  It's like you have your own light.  Conveniently, it's a photographer's dream!  Strangers compliment your beautiful, sparkling eyes and say you're such a HAPPY baby after you flash that enormous smile.  Which is very true… unless you're hungry.  Or over-tired.  Then, watch out!
Jilly, we are so unbelievably blessed to have you in our lives.
Love, Momma
This year, I'm joining a few photographers in a blog circle where we share monthly letters to our children.  If you enjoyed this post, be sure to check out Cicely's letter to her children!
---
Read more about Jillian's first year:  her birth  I  one month  I  two months  I  three months  I  four months
I used these same onesies to document Colin's first year.  This blog launched midway through, so you can check out those posts here:  eight months  I  nine months  I  ten months  I  eleven months  I one year