Jillian,
You are nine months old now, baby girl!  I can't believe you've already been in our world for as long as you were in my belly!  This morning, while I was feeding you, I suddenly remembered the moment of our 20 week ultrasound when we found out you were a girl.  It was such a thrill.  We never expected to have a girl (John's family is boys & boys & boys & boys) so when they confidently told us you were a girl, I was absolutely delighted.
Speaking of girls, this month I bought a couple hair bows and some itty bitty rubber bands and started experimenting with pony tails!  Everything is so very short-lived because you're moving too fast for me to properly do your hair.  And even if I manage to wrestle in a bow, it comes loose once you start rolling around (see above… the bow is hanging on for dear life after only 5 minutes).
On the go.  Yes.  Always.  Even though you're still army crawling, you've perfected it so that you're FAST.  You also love to plank (I think it's really funny!) & rock back and forth on your knees so I have a feeling you'll start 'properly' crawling soon.  Oh, and I caught you pulling yourself up onto your knees in your crib this morning.  So there's that.
Your favorite toys to play with are anything your brother is currently using.  You tolerate the jumperoo, but don't have the same enthusiasm for it as Colin did.  I think it's because it holds you back from getting into his messes.
You're still not much of a talker, but you like to click your tongue and lately have been babbling 'da da da da' (of course).  And when you need to get your point across, you sure can WAIL (usually paired with a very effective back arching)!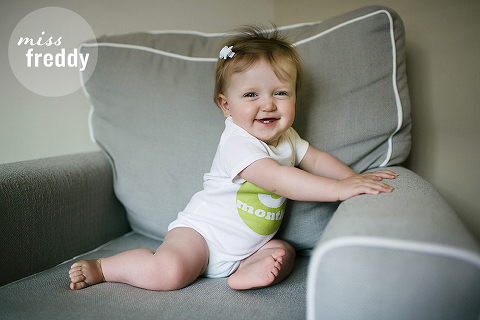 This month, you started 'waving'… kind of.  When I catch you doing it, you start panting out of excitement (that's the best way to describe it) and wave your hand faster & faster.  It's really cute.
You're such a happy baby now, Boo.  My wish for you is that you always keep such a happy spirit!
Love, Momma!
This year, I'm joining a few photographers in a blog circle where we share monthly letters to our children.  If you enjoyed this post, be sure to check out Cicely's letter to her children!
---
Read more about Jillian's first year:  her birth  I  one month  I  two months  I  three months  I  four months  I  five months I six months I  seven months  I  eight months
I used these same onesies to document Colin's first year:  eight months  I  nine months  I  ten months  I  eleven months  I one year