Jillian,
You are ten months old now, baby girl!  And these were definitely the hardest photos to capture yet!  I put you in your monthly onesie, laid you down onto the usual blanket and instantly you were OFF!  Crawling away before I could even lock my camera focus.  (You can crawl on your knees now, but still favor the army crawl when you need speed.)  I tried singing your favorite songs, making silly noises & waving toys, but you weren't amused.  "Must be on the move, Mom!"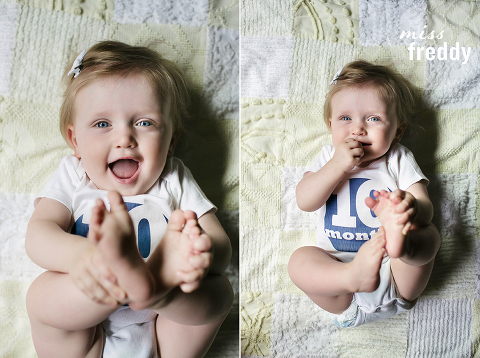 The biggest development this month is that you started pulling yourself to stand.  Now you want to stand everywhere!  If I try to sit you down, you flex your entire body into a plank in protest.  Nap & bed time are currently taking quite a bit longer because the (newly lowered) crib is the perfect place to practice your new skill!  You stand & walk around your crib while making shrieking noises over at your brother in the other bed.  He mimics your 'words' and I laugh from downstairs at the 'conversation' (more like circus noises) coming from the nursery.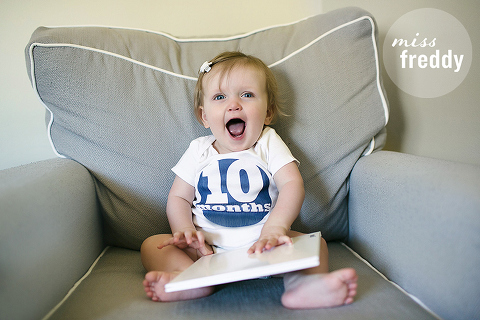 For your brother's 10 months post, I shared a list of favorites and thought it would be fun to do the same for you:
Favorite Book:  You aren't nearly as interested in books as your brother was (totally my fault… I'm working on incorporating you into the bedtime book routine now), but you like when we read The Very Hungry Caterpillar and you can touch the holes the caterpillar leaves behind in the food.
Favorite Toy:  Anything your brother is playing with, pretty much.  But this musical toy usually keeps your attention.
Favorite Song:  Head, Shoulders, Knees & Toes
Favorite Food:  Lately you've been loving chicken, yogurt, peaches, pears and pesto pasta (Colin calls them green noodles… or 'noo noos').
Favorite Word:  Still pretty quiet, but you babble 'dada' sounds pretty often.
Favorite Thing to Do:  Chew on EVERYTHING (your front two top teeth just came through!) and get into your brother's toy car collection.  (When you get too close to his toys, Colin says 'Mommy snuggle Baby' so that I'll take you away to snuggle with me… clever little guy!)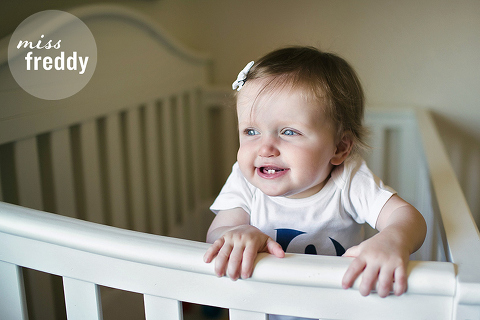 I have a feeling you're going to be a spunky one, Jilly Boo.  And we totally love you.
Love, Momma!
This year, I'm joining a few photographers in a blog circle where we share monthly letters to our children.  If you enjoyed this post, be sure to check out Cicely's letter to her children!
---
Read more about Jillian's first year:  her birth  I  one month  I  two months  I  three months  I  four months  I  five months I six months I  seven months  I  eight months  I  nine months
I used these same onesies to document Colin's first year:  eight months  I  nine months  I  ten months  I  eleven months  I one year