Jillian,
You are eleven months old now, baby girl!  That means there's only one onesie left in the box.  Whew.  I can't go there right now.  Because, in this moment, I just want to cherish every last drop of you as an infant (you'll be my baby forever, but I believe the term infant officially expires on your first birthday).
Boo, you have so much personality now.  You have so many opinions and I can read them all on your face.  You pout that bottom lip when you're upset (oh!  that bottom lip!), you scrunch up your nose when you're not amused (like when someone tries to snuggle you), and you purse your lips when you're contemplating your next, often mischievous, move (pictured below).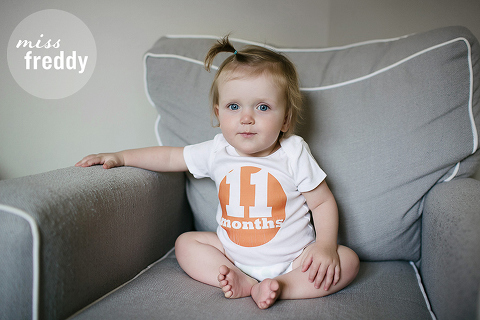 You're still into everything.  We are having to baby proof things we never baby proofed before because you are interested in completely different things than your brother.  Like Colby's water bowl (your favorite).  You tasted his food for the first time today and I'm not sure if you'll be going back for more.
Favorite Book: I'm Just A Fish.  You love the googly eyes.
Favorite Toy:  Other than Colby's water bowl?  You're digging this cookie tray.
Favorite Song:  The Wheels On the Bus.
Favorite Food: You'll eat anything!  You're currently loving pears, peaches, blueberries, noodles & chicken.
Favorite Word: No words yet, but more babbling and of course your loud shouts when you want attention!
Favorite Thing to Do: Anything that doesn't require you to sit still.  You love to stand & walk along the couch.  And we just realized yesterday that you can climb the entire staircase!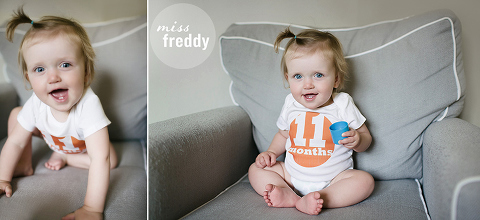 Boo, lets enjoy every last second of this final month of infancy.  I know you'll do it with an enormous smile on your face!
Love, Momma!
This year, I'm joining a few photographers in a blog circle where we share monthly letters to our children.  If you enjoyed this post, be sure to check out Beth's letter to her son!
---
Read more about Jillian's first year:  her birth  I  one month  I  two months  I  three months  I  four months  I  five months I six months I  seven months  I  eight months  I  nine months  I  ten months
I used these same onesies to document Colin's first year:  eight months  I  nine months  I  ten months  I  eleven months  I one year